August 19, 2019  – Courtesy of  Ashley Ahern with KUOW.
Julie Hensley's body echoes the rolling motion of her horse, Hot Rod, as she rides in tight circles around her arena.
Stop, roll back, lope — the palomino gelding an extension of his rider — pirouetting and stopping on a dime at her subtle command.
You would never know, watching this woman guide her horse through such complex maneuvers, that Julie Hensley is blind.
A yellow and black boom box sits on a barrel in the center of the arena, tuned to conservative talk radio. Snippets of President Trump's latest speech weave in and out of call-ins about wolves killing cattle and ads for farming equipment.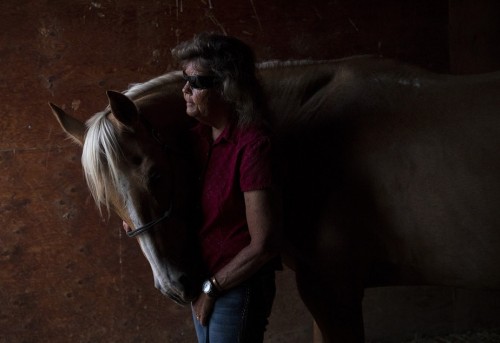 But Julie isn't listening for content. She orients herself and her horse using the sounds from the center of the arena.
In one hand she holds a length of stiff nylon rope which she uses as an antenna, tapping and feeling for the fence that marks the edge of the arena, as Hot Rod runs around.
Julie grew up on a large ranch in Okanogan County, the daughter of a rodeo calf roper, and has been a horsewoman all her life.
The walls of her tack room are adorned with old saddles and faded photographs: Julie in a cowgirl hat wearing the rodeo queen sash (she was Washington State high school rodeo queen in 1974), Julie on horseback, racing low and fast around a barrel, Julie posing on sleek, athletic quarter horses.
And it was a horse that took her eyesight away.
Julie was in her early 20s, married, and working at a racetrack in the Tri-Cities when the accident happened.
It was the winter racing season and there was ice on the track. Her horse lost its footing  Click to continue reading article from KUOW.

Print/Email Friendly