Courtesy of Washington State Horse Park Nov 2017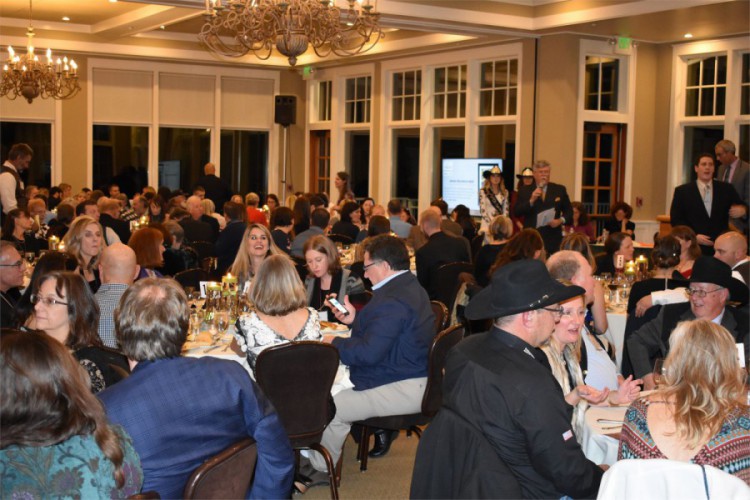 Fulfilling dreams. Reaching for the future. Discovering common ground. This was the heart of the 2017 Unbridled Evening.
Over 200 people attended the 2nd annual WSHP Gala on November 11, and we are beyond thrilled to announce that supporters raised over $100,000 in net proceeds throughout the evening! This is a significant contribution to both operations and funding the covered arena.
Unbridled Evening is a truly unique experience – a collection of individuals representing the very essence of the Horse Park– a community of disciplines sharing common goals and interests. It was both emotional and encouraging to see hunter-jumpers mingle with Rodeo boards, cow horse folks cracking jokes with eventers, Kittitas and King county residents side by side, and to have farriers, vets and tack shops come together at one time and place, showing support for this Park. What a wonderful reminder that we are in this together.
It was a beautiful evening at the Sahalee Country Club! The stunning Cle Elum Round Up Rodeo Queens greeted guests as they arrived. Members from the WSHP Board of Directors shared throughout the evening what this community has achieved and where we are headed. A lively auction filled the evening. Thanks to generous donors, there was something for everyone, from a western wear shopping spree to a fox hunting excursion. Special thank you to local artists who participated in the Art Show for your time, energy and work to bring this unique element to the evening.
The WSHP Authority Board and Staff is grateful for moments like Unbridled Evening. Thank you to all who helped make this evening possible, with distinct appreciation to Mark Englizian and his wife Carol who spent months planning this memorable event. To the donors, photographers, artists, to those who gave generously and to ALL who attended – you have our sincerest gratitude.
Is it too soon to start getting excited for next year? Save the Date – November 10, 2018 – WE'LL SEE YOU THERE!
The Washington State Horse Park is a 501c(3) Non-Profit Organization with the mission to build, promote, operate and sustain the premier destination for horse activities in the Pacific Northwest. Like to know more about what the Washington State Horse Park is about? Interested in how you can support our equine industry?  Click here to access our website-www.wahorsepark.org

Print/Email Friendly