When:
2019-10-27T00:00:00-07:00
2019-10-28T00:00:00-07:00
Where:
High Mountain Equestrian Center
38412 SE Porter Rd
Estacada, OR 97023
USA

Contact:
Jaya Erkkila
(415) 518-0308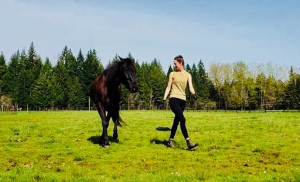 If you are seeking a deeper connection with your horse and are interested in learning how to achieve this through liberty, I highly recommend my first level, "Liberty 101″ ~ Learning the Language of Equus.
In this clinic, I will teach you how to play and engage with your horse at liberty. Using my Infinite Bond Horse Method, you will learn how to build trust, respect, leadership and communication. The foundation to establish a better relationship with your horse. Each participant is given "hands on" instruction while they work with their horse to develop a true connection.
This clinic is a wonderful opportunity to "let your hair down" and will help even the most advanced riders!
$125 ~ Participate with your horse. Only 6 spots available! (includes day use of a stall.)
$125 ~ Attend, Observe & Learn (includes a session with the clinicians horse.) Only 2 spots available!
*** In celebration of Halloween, participants(horses excluded) are encouraged to dress up and a special prize will be awarded to "Best Costume." ***
For all reservations a 50% deposit is required. Any cancellations can be reapplied to a future clinic.

Print/Email Friendly