When:
February 12, 2021 – February 14, 2021
all-day
2021-02-12T00:00:00-08:00
2021-02-15T00:00:00-08:00
Where:
Washington Horseman Tacoma Unit 1
17812 14th Ave E
Spanaway, WA 98387
USA

Contact:
Karen Lunan
253-208-3332 Text only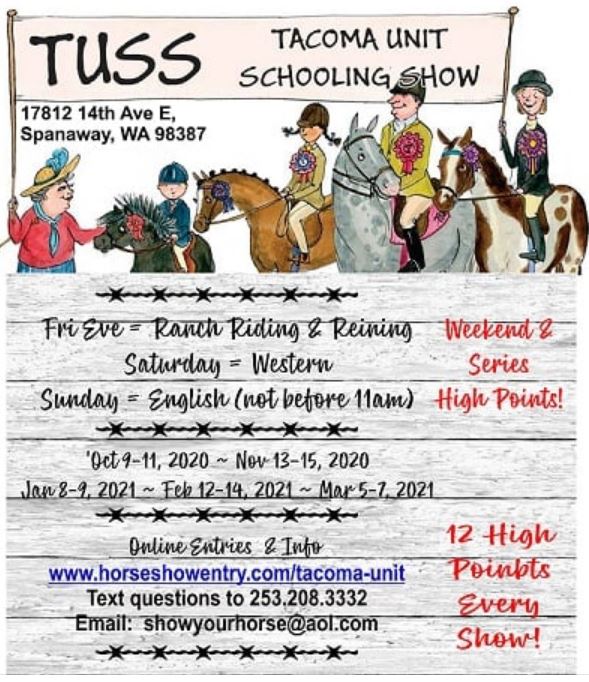 With the COVID mandates that have been set forth by Inslee, there will be changes of procedures within the structure of the show.
>Entries need to be online
>Adding and Scratching classes will be online. You will need to fill out the online form AND tell the gate person. Failure to do so will result in you being billed for the class.
>Stall reservations will be online
>Results will be posted online as well as on your statement
>NO SPECTATORS ALLOWED no family or friends that are not showing are allowed on the grounds.
99% of the paperwork will be online. You will come to the office to check in and check out. ALWAYS wear your mask if your boots are on the ground. You do not have to wear it if you are riding your horse or showing. Social distancing will be practiced on the ground and on your horse. Social gathering is not allowed. Our full protocols for the schooling show as well as what is set for by Tacoma Unit will be posted shortly! PLEASE follow these mandates! We worked hard to get the industry opened during the COVID restrictions. We do not want to jeopardize future shows at the Unit; nor do we want our sport to be shut down state wide for non-compliance.
These are MANDATORY rules. If you don't agree with wearing a mask please do not come to the shows. If you do not comply you will be escorted off the premises with no refund of monies. There will be "mask patrolers" at the show that will ask you to put your mask on, should you forget. These people are volunteers that are working to keep the Unit open. Rudeness and Arguments with the volunteers will get you escorted off the property. Thanks for understanding and cooperating!
We all just want to show and enjoy our horses!
Click to view our Facebook Event page!

Print/Email Friendly