When:
December 26, 2020 @ 5:00 pm
2020-12-26T17:00:00-08:00
2020-12-26T17:15:00-08:00
Where:
Northwest Washington Fairgrounds, Tractor Arena
1775 Front St
Lynden, WA 98264
USA

Our ranch sorting practice and jackpot is coming up, you must pre-register and pre-pay to participate. Registration is now open but we have to cut it off at 50 participants so make sure you sign up.
It's easy to Pre-Register!
Click the Green Tickets button above.
If you have any questions with the registration process call Frances Negranza, 360.318.5416 or frances@nwwafair.com
RANCH SORTING EVERY 2ND & 4TH WEDNESDAY: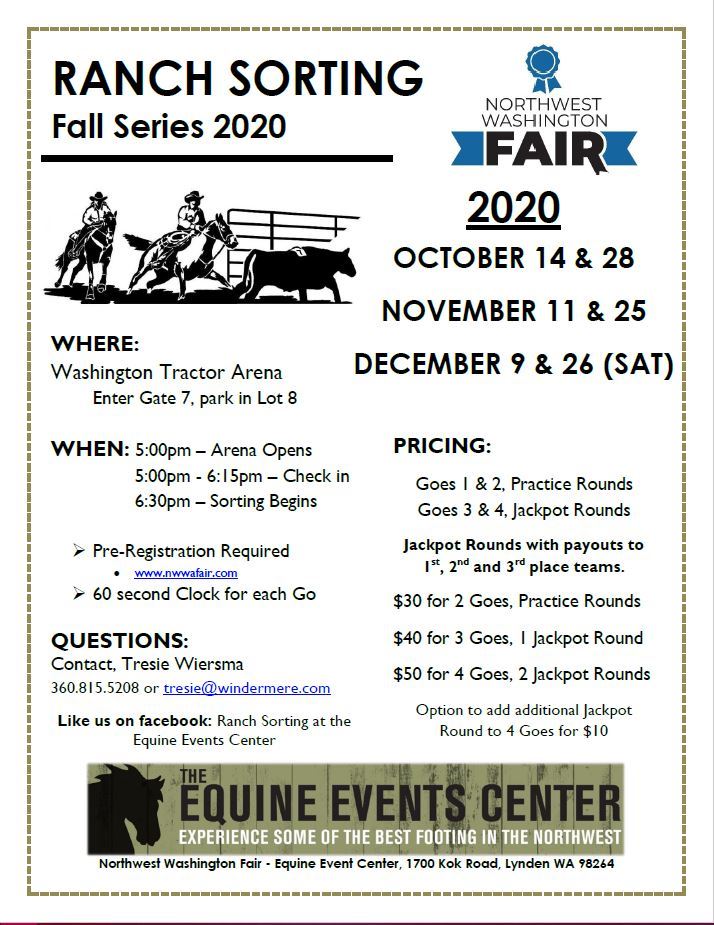 Please help us with the following:  In accordance with the State of Washington's guidance for Agricultural Shows in Phase 2, all participants must pre-register and pay prior to the arrival of the scheduled program.
Please wear face coverings while inside the arena. Maintain 6ft of social distancing. We kindly ask our community to help us follow these guidelines so we may continue to host events and programs on our grounds.
The WA Tractor Arena opens at 5:00 PM, please check-in between 5:00 – 6:15 PM. Our one-on-one will start at 6:00 (please be ready to go at 6 for this) and sorting will start at 6:30 PM. Remember for our jackpots you are paired at random with another rider so don't be afraid to sign up, it's always a lot of fun and you could win money. We will pay our first, second, and third-place teams in each jackpot round, all payouts will be mailed within 2 business days.
A few other things…
For those needing a little extra cattle time, we'll have our 60-second one-on-one sort. You will have 60 seconds to WALK into the herd or stand your horse in the herd (no running.) This is available for an additional $5 with a minimum 2 go purchase and is an option when you pre-register. One-on-one starts at 6:00 PM. No more than 2 goes per rider, please.
Secondly, our check-in process will be much easier with pre-registration, once checked in write your name down once per 'go' sheet, for the number of goes you bought. For example, if you pay for 2 goes, you will write your name down once, on 'go sheet' #1, and once on 'go sheet' #2.
We're looking forward to seeing you all soon! Contact Tresie with any questions.
Click to view our Ranch Sorting Facebook page!

Print/Email Friendly