When:
November 1, 2019 – November 3, 2019
all-day
2019-11-01T00:00:00-07:00
2019-11-04T00:00:00-08:00
Where:
Ride-N-Shine Farm
5425 W Interurban Blvd
Bothell, WA 98012
USA

Contact:
Olympia Granberg
206.498.6939
3 Day format provides a great learning environment with like-minded people, time to practice before or after your session, and auditing of the other sessions. See old friends and make new ones!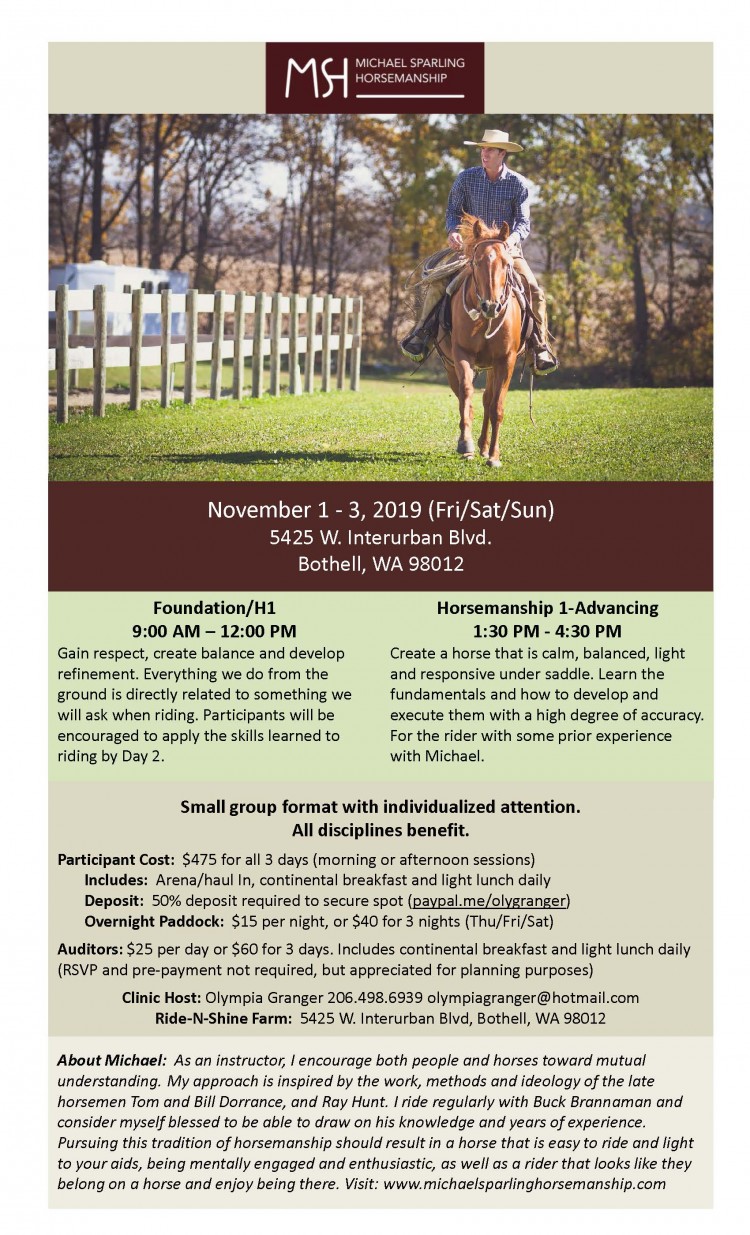 *Small group format with individualized attention.
*All disciplines benefit.
*Participant Cost: $475 for all 3 days
(morning or afternoon sessions)
Includes:Arena/haul In, continental breakfast and light lunch daily
*Deposit:50% deposit required to secure spot (paypal.me/olygranger)
*Overnight Paddock: $15 per night, or $40 for 3 nights (Thu/Fri/Sat)
*Auditors:$25 per day or $60 for 3 days. Includes continental breakfast and light lunch daily (RSVP and pre-payment not required, but appreciated for planning purposes)
Clinic Host: Olympia Granger 206.498.6939 olympiagranger@hotmail.com
About Michael: As an instructor, I encourage both people and horses toward mutual understanding.My approach is inspired by the work, methods and ideology of the late horsemen Tom and Bill Dorrance, and Ray Hunt. I ride regularly with Buck Brannaman and consider myself blessed to be able to draw on his knowledge and years of experience. Pursuing this tradition of horsemanship should result in a horse that is easy to ride and light to your aids, being mentally engaged and enthusiastic, as well as a rider that looks like they belong on a horse and enjoy being there. Visit: www.michaelsparlinghorsemanship.com

Print/Email Friendly