When:
October 2, 2020 – October 4, 2020
all-day
2020-10-02T00:00:00-07:00
2020-10-05T00:00:00-07:00
Where:
44321 Niederprum Rd
Darrington, WA 98241
USA

Cost:
$675 (all inclusive), $25 per day. Option for auditor/guest meals $30 with RSVP
All-inclusive clinic at a private working farm in Darrington, with spectacular scenery, excellent instruction and coaching, and gracious hosts. Space is limited.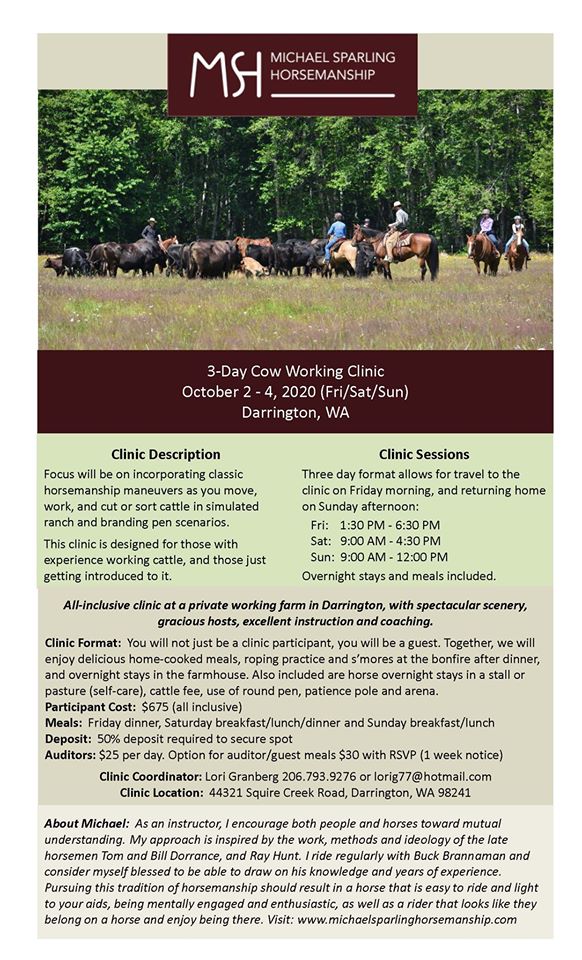 Cow Working: Focus will be on incorporating classic horsemanship maneuvers as you move, work, and cut or sort cattle in simulated ranch and branding pen scenarios. This clinic is designed for those with experience working cattle, and those just getting introduced to it. With a herd of cow/calf pairs, we will work on everything from sorting off the herd to moving the herd. You will work individually and as a group, giving you and your horse the opportunity to develop and refine your skills and partnership.
All Inclusive Format: You will not just be a clinic participant, you will be a guest. We will enjoy delicious home-cooked meals, and roping practice and s'mores at the bonfire after dinner. Overnight stays in the farmhouse, stalls or pasture for horses (self-care), cattle fee, use of arena and round pen are also included. Three day format allows for travel to the clinic on Friday morning, and returning home on Sunday afternoon: Fri: 1:30 PM – 6:30 PM; Sat: 9:00 AM – 4:30 PM; Sun: 9:00 AM – 12:00 PM
Click to view the Michael Sparling Horsemanship Pacific Northwest Facebook page.
Click to view our Facebook Event page.

Print/Email Friendly