Calendar of NE Speed Events
Mon
Tue
Wed
Thu
Fri
Sat
Sun

Central Washington State Fair

Central Washington State Fair

@ CWSF

CWSF offers 3 days of showing, with three different sessions, midweek, weekend and mini's. Look at the CWSF website in early summer for more info, pricing and days.

Play-A-Palooza

@ Rosalia Rodeo Grounds

Sep 21 @ 9:00 am – 4:00 pm

Join us for a day of FUN, FRIENDS & BRAGGING RIGHTS with a heavy dose of LAUGHTER & ENTERTAINMENT to wrap up the Northwest Horse Season and benefit a great cause! NO LIMITS to the[...]
Sep
20
Fri
Central Washington State Fair

@ CWSF
CWSF offers 3 days of showing, with three different sessions, midweek, weekend and mini's. Look at the CWSF website in early summer for more info, pricing and days.
Sep
21
Sat
Play-A-Palooza

@ Rosalia Rodeo Grounds
Sep 21 @ 9:00 am – 4:00 pm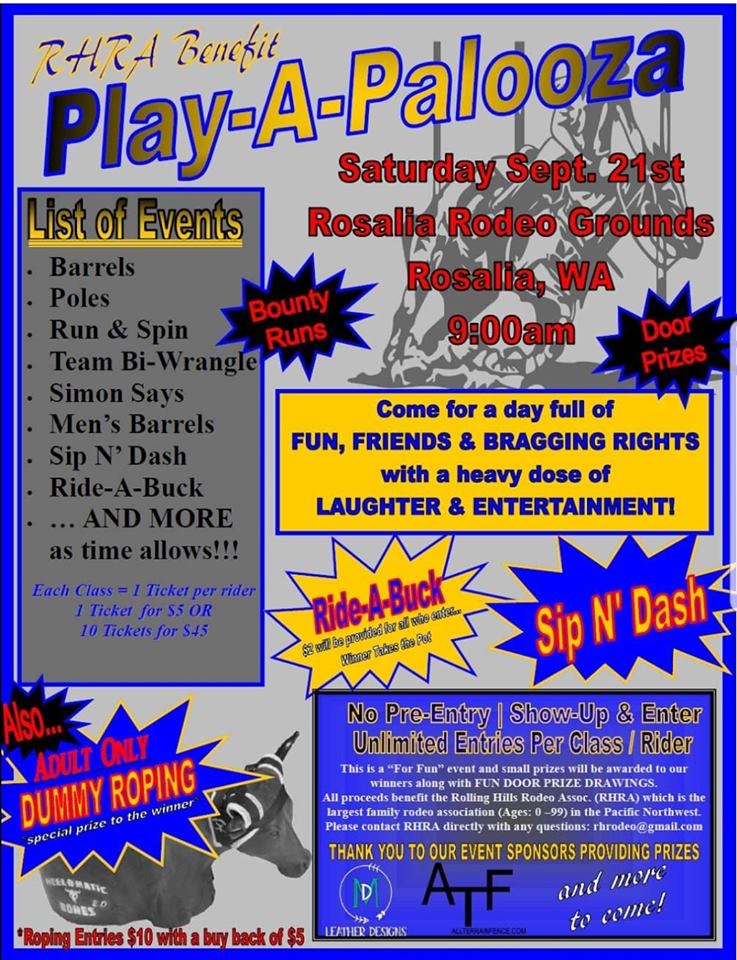 Join us for a day of FUN, FRIENDS & BRAGGING RIGHTS with a heavy dose of LAUGHTER & ENTERTAINMENT to wrap up the Northwest Horse Season and benefit a great cause! NO LIMITS to the number of entries per event/horse/rider and No pre-entry is required.
This event is a mix of standard and super fun events including Barrels, Poles, SIP N' DASH, Run and Spin, Adult Dummy Roping and so much more. There will be door prizes, bounty runs and a whole lot of laughs. Come wrap up the season with a great time and whole lot of fun!!!
You do not need to participate in all events. You can enter as a rider multiple times in one event and or multiple horses in key events. You can buy tickets at the office throughout the day of the event an it will be one ticket per run. All proceeds will go to support the production & awards for RHRA.
Click to view our Facebook Event page.