View the 'How We Do: Cle Elum' promotional video footage promoting Cle Elum that include footage of eventing riders at the Washington State Horse Park.  Click to view video.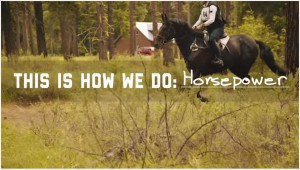 The Washington State Horse Park is the premier equestrian facility in Washington state, serving the recreational, competitive and educational needs of riders and horse enthusiasts in all disciplines, age groups and skill levels. The venue provides ample facilities to accommodate small-to-large size shows as well as less formal activities.
The needs of horse people involved in a wide variety of equine disciplines across the state are served at the Horse Park. This world-class venue has become the "go to place" for breed shows, western competitions, hunter/jumper shows, dressage competitions, three-day events, combined driving and competitive trail riding, to name a few. Local, regional and national competitions are attracted to the site for its comprehensive offerings and stunning setting.
The Horse Park also serves those interested in less formal equestrian activities such as trail riding and back country packing.
People of all ages and skill levels are drawn to the Horse Park, and special consideration is given to youth programs and therapeutic riding. Emphasis also is placed on fostering education and training through clinics, demonstrations, seminars and camps.
Looking for an event venue for your event?  Looking to support our equine community?  Looking for an event to attend?  Check out the Washington State Horse Park website for additional details and join them today!
Looking for additional information about Cle Elum?  Check out the Discover Cle Elum website.

Print/Email Friendly