When:
March 2, 2018 – March 4, 2018
all-day
2018-03-02T00:00:00-08:00
2018-03-05T00:00:00-08:00
Where:
Clark County Event Center
17402 NE Delfel Rd
Ridgefield, WA 98642
USA

 Come and experience the magic of the Horse at the
8th Annual Washington State Horse Expo, March 2-4, 2018
Enjoy demonstrations by Nationally ranked Clinicians, educational seminars, and performing horses.
Shop in the Markeplace filled with premiere vendors, and get a bite to eat in one of the concession stands.
And don't miss the popular Saturday Night Equine Extravaganza (separate ticket required).
Stop by the NW Equine in booth #614 to view some of the unique products, services, clubs, and businesses that you will find in the NW Equine Directory.
Friday, March 2nd, Marci with The Horse's Glass will be in the NW Equine booth painting glasses.  Bring a photo of your horse for a custom wine glass. 
(Glasses with loud markings require more time – will be sent after expo.)

Saturday and Sunday, Jessica Johnson, The Equine Esquire will be available to answer your equine legal questions.  Stop by the NW Equine booth with your questions.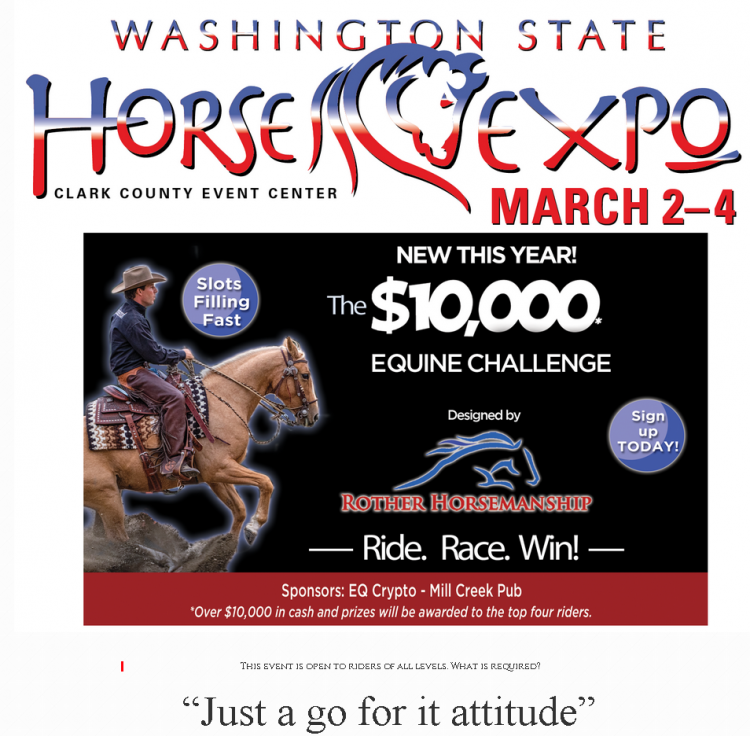 Click to follow us on Facebook for current postings!
Events, Topics & Activities:
Demo's by the featured clinicians

Meet the clinicians in the Presentation Pens

Speakers in the classroom

Exciting Equine Challenge in the Dr. Jack Giesy Arena

Popular Saturday Night Extravaganza in the Exhibition Hall

New Kid's Corral
David Lichman
David Lichman is a 5-Star Master Parelli Professional with a specialty in Liberty Horses. He has performed in shows all across the continent with his three-horse act, which includes bridle-less riding and riding to music. He is the creator of Liberty Outside the Round Pen, a Parelli Mastery Series release. In this 4-DVD set, David gives step-by-step instructions on building a connection that resists distractions, enabling students to play at Liberty with exuberance in large open areas.
David lives in California with his wife, two children, nine horses, four dogs, four cats and dozens of chickens, pigeons and canaries. Visit his web site at:
DavidLichman.com
for information on educational materials, courses and long-distance video coaching. He is a strong supporter of Equine Therapy for all humans, but especially for veterans returning from service. David also has a specialty in Gaited Horses. Following a World Grand Championship win in the Pleasure Tennessee Walking Horse division, David has spent the last 25 years working with horses from every gaited breed. He has a series of best-selling educational products, Gaited Horses,
Naturally!,
that show how to have great success with a more natural approach.
David teaches all over the world helping students find a better relationship with their horses, and the relaxation and posture that are fundamental to all riding, including gaited horses.
Brandi Lyons
Brandi Lyons carries on with the most trusted name in the horse industry. Over the last 20 years, she has become admired and respected by horse owners and enthusiasts from around the country.
The Lyons' conditioned response training methods teach people how to work with their horses using gentle training methods, earning the horse's respect while creating a safe and willing partner.
"I meet each person right where they are on their journey with their horse. We work together to become safe partners with our horses while having fun," says Brandi Lyons. Brandi had an accident with a horse back in 2001 that changed the way she trained horses and trained the riders. "I became afraid of horses which was such a strange feeling for me because I was literally raised on the back of a horse. I had to overcome my fear as it was the only way I knew how to put food on the table for my children. Because of this I developed a way to help others with their fear." Brandi is sought out for helping riders overcome their fear, learn to have fun and become great horseman.
Brandi's success and popularity is based on a simple but seldom practiced philosophy her father pioneered decades ago: love and respect the riders first. Then, success with the horses comes naturally.
Jessica Wisdom
"Dressage is for everyone and any horse and rider can benefit from it," says Jessica Wisdom, a well-recognized dressage rider, trainer and instructor in the NW. Jessica, known for her extraordinary success with young horses and non-traditional breeds, is now gaining popularity for her down-to-earth instruction. "It didn't come easily for me. I think that makes me a better teacher," Jessica says. "Lots of the best riders in the world aren't great teachers because it is so simple for them. They have no idea how to do it. I know exactly how I did it, because I had to do it a million times wrong before I got it right. So now I can explain how in a 100 different ways, because that's how many different ways I had to explain it to myself before I finally got it."
Jessica resides in Battle Ground, Washington and trains and teaches at Emerald Valley Stables. She is the recipient of the USDF Bronze, Silver, and Gold medals plus the Free-style Gold Bar, and has had multiple "Horse of the Year" placing with horses in her program. She has coached riders from Training level to FEI with several winning championships. Her calendar is currently filled with her own competition riding, a training & lesson program at Emerald Valley, and a growing number of dressage clinics.
Mustang Maddy
A lifelong equestrienne, Madison Shambaugh's world was rocked when she encountered her first mustang in 2013. Captivated by the their heart, mind and innate freedom, "Mustang Maddy" has made it her life's mission to raise awareness for the plight of America's wild horses and showcase the mustang as a talented breed that's perfect for riders of all backgrounds. "There is nothing quite like the bond you can create between a once-wild horse and a human; the patience and complete trust it takes to build that relationship is incredible," Madison said. Oftentimes, the public perception of mustangs is negative—that they're unusable, castaways or even "range rats"—but Madison is on a mission to shine the light on the unlimited talents these horses possess; videos of her bareback and bridleless freestyle performances with multiple mustang partners have been viewed millions of times. Together with her liberty team of formerly wild mustangs, Madison travels the country to share her training methods and advocate for wild horses. As a clinician, Madison crisscrosses the country to educate horsemen and women about her "5 Golden Rules" that shape her interaction and training with horses of all kinds. Using Madison's method, horse lovers can enjoy stronger relationships with their horses for recreation, barrel racing and liberty training.
Wherever she goes, Madison's message rings true: every horse has a potential for greatness; it is up to us to help them reveal it.
Steve Rother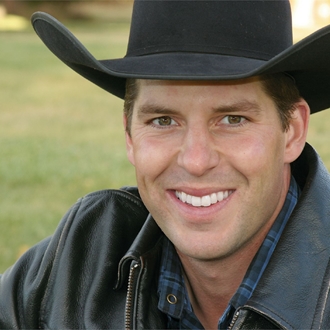 Known as the Horse Teacher, Steve is dedicated to all horse people who strive to teach their horses by educating themselves. He is not limited to specific disciplines, and over the last two decades has helped over 20,000 horses and riders develop a more willing partnership. Steve conducts horsemanship clinics throughout the USA and Canada, and at his Ranch, The School of Horse in NE Washington State. His Excel with Horses Club and DVD Series allows students to come together to acheive their horsemanship dreams through a levels program. You won't want to miss Steve's demos at the expo they are aways crowd-pleasing, inspiring, and educational. Steve will be the MC for the exciting Equine Challenge so you can be sure it will be action packed.

Rob Zimmerman
Rob started his professional horse training career working with Doug Milholland, one of the leading reining trainers in the United States. He has developed a method of training that is for everyone-regardless of riding discipline or experience.
Rob combines his own natural talent and unique ability of reading a horse, with a safe, progressive and productive training program, to bring about the desired results of having not only a respectful and safe horse, but a willing partner. He currently owns South Ridge Farms a premier training and boarding facility in Ridgefield, WA which he designed and built himself. In the last couple years Rob has become involved in training horses and riders for the exciting new sport of Working Equitation.

Print/Email Friendly