When:
November 25, 2017 @ 2:00 am – 5:30 am
2017-11-25T02:00:00-08:00
2017-11-25T05:30:00-08:00
Where:
Rhodes River Ranch
22016 Entsminger Rd
Arlington, WA 98223
USA

THE SEATTLE KNIGHTS
What you need to know about attending a show at The Restaurant at Rhodes River Ranch. Tickets must be purchased at www.BrownPaperTickets.com or by calling 1-800-838-3006.
Seats (paid through Brown Paper Tickets) range from $10-$22, plus tax and booking fee.
We offer 3 seating area's to choose from.
Open Air Mezzanine $22
These are the best seats in the house! They fill up fast!
The majority of the tables/chairs on the Mezzanine are 'bistro style'. We would not suggest these for seniors as it may be difficult for them to get onto the chair.
Main Restaurant Seating $18
Main Restaurant Seating is located inside the restaurant behind the glass window that over looks the indoor arena. We have a sound system, so hearing the Lords & Ladies and being apart of the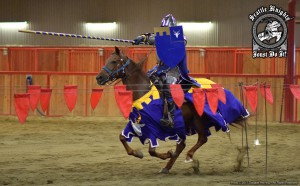 show inside the restaurant is not a problem!

General Backroom Seating $10
General seating has limited viewing access. This is generally used for walk ins if needed.
Click here for more info on seating areas.
Once you purchase your seats thru Brown Paper Tickets, our seating coordinator will contact you via email to confirm your reservation and assign your table. If you have any questions, or need special seating arrangements due to mobility problems, or you're meeting a large group, please contact our seating coordinator directly. Wendy@TheRestaurantatRRR.com.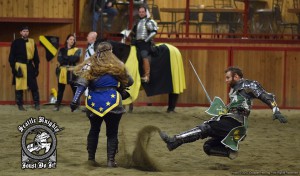 Seating is arranged European style at larger tables in order to accommodate all guests – sharing tables with other event patrons is a possibility! (Especially during the Evening Show)
The Restaurant at Rhodes River Ranch staff and seating coordinator will greet you upon arrival and show you to your table. Seating starts at 2pm (Matinee) and 5:30 (Evening) followed by salad and beverage service.
Once salads and drinks are served, tables are excused to the dinner concession window.
Around 2:35-2:45 (Matinee) and 6:00pm-6:15pm (Evening)
Shows start at 3pm (Matinee) and 6:30pm (Evening), respectively.  This gives everyone time to check in, be seated, meet your server, get your drinks and meal before the show begins.
DINNER MENU
Prices: Adults $16.99 – Children ages 3-6 $6.99 – Children ages 7-13 $8.99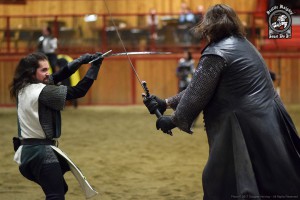 Please be advised, this price is NOT included in your ticket price.
The meal is optional and paid for on the day of the event
Chicken Alfredo Pasta OR Italian Sausage Pasta Marinara
Homemade Garlic Bread
Caesar Salad OR Spring Mix & Romaine
-Dinner salads can also be purchased à la carte
-We offer a wide variety of handmade desserts (varies)http://therestaurantatrhodesriverranch.com/menu/dessert/
-Wine, Beer, Spirits, Soft Drinks

Drinks and gratuity are not included in the ticket price
During Seattle Knight Shows our full menu is only open before the Matinee & after the Evening Show.  This ensures our kitchen staff has the time to focus on getting the food out swiftly.
Regular Menu Available
9am until Noon & 7:30pm until Closing

The Cutting Edge of Entertainment
What do you get when you cross a bunch of thrill-seeking actor-combatants with medieval mayhem, magnificent mounts, and a touch of magic? The Seattle Knights, the northwest's premier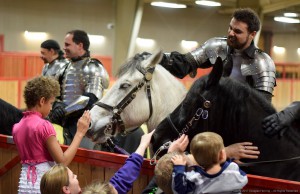 sword-fighting and jousting show, is a theatrical troupe specializing in Medieval Fantasy, wielding real weapons and armor to perform choreographed, medieval-style combat. Knights in shining armor battle rogues, ruffians, and one another, and fair maidens sometimes take up the sword against all of them. Equestrian war games test the speed, courage, and horsemanship of our mounted Knights.  And if the outcome of a contest is in doubt—the Jousters are there to settle the score!  Cheer on your favorite Knight as the excitement builds! And the fun doesn't stop there; after the show, the Knights join the Rhodes River Ranch guests for a spontaneous meet-and-greet. Ever wanted to know more about your favorite Knight, weapons, armor, or horse?  Just ask – each Knight is more than happy to share his or her enthusiasm and answer your questions.  Or come meet the horses up close and personal. 
Click to see our Seattle Knights Facebook page for images and updates!
For more information, feel free to explore the Seattle Knights webpage at: http://www.seattleknights.com, or call 206-334-2246

Print/Email Friendly