When:
March 8, 2019 @ 9:00 am – March 10, 2019 @ 4:30 pm
2019-03-08T09:00:00-08:00
2019-03-10T16:30:00-07:00
Where:
Ride-N-Shine Farm
5425 W Interurban Blvd
Bothell, WA 98012
USA

Contact:
Olympia Granger
206.498.6939
Yeehaw!!! Registration is OPEN!

The clinic date is set.
We are SUPER excited that we are offering a new 3 day format! This allows the participant to soak up information and have time for practice prior and post clinic times. Also allows for auditing of the other clinic.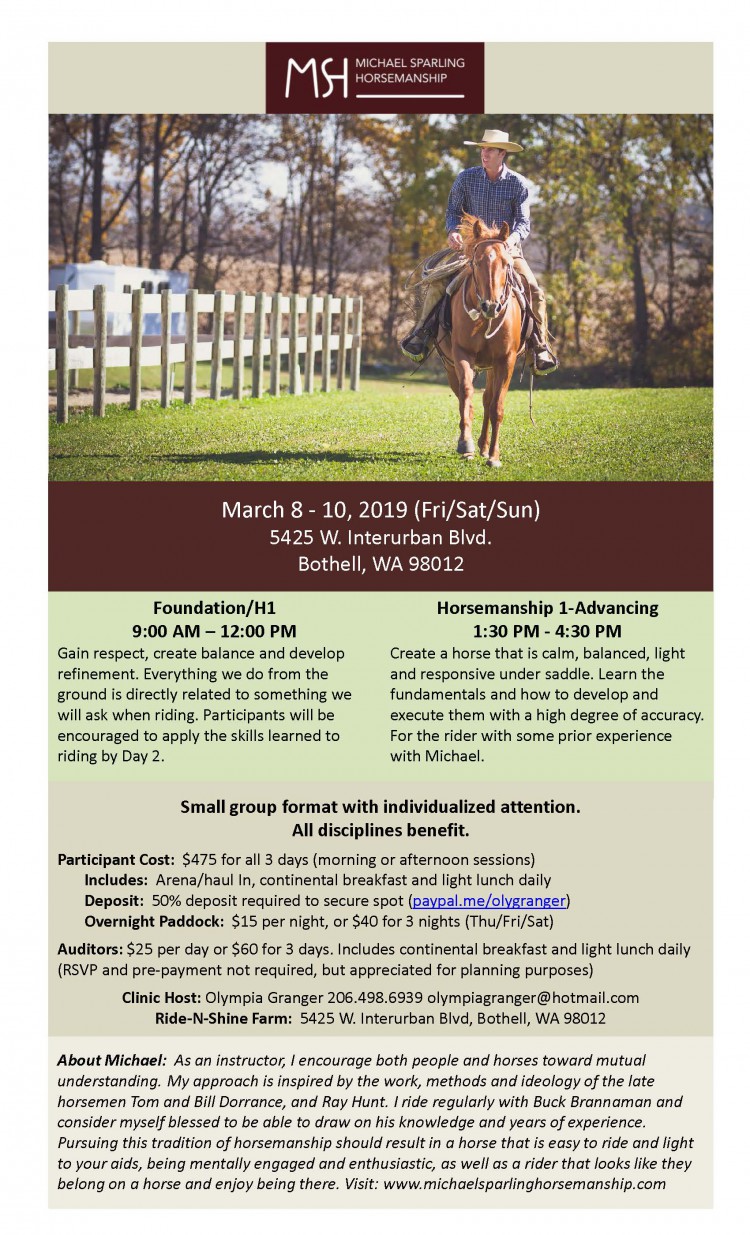 Foundation/H1 – 9:00 AM –12:00 PM
Gain respect, create balance and develop refinement. Everything we do from the ground is directly related to something we will ask when riding. Participants will be encouraged to apply the skills learned to riding by Day 2.
Horsemanship 1-Advancing – 1:30 PM -4:30 PM
Create a horse that is calm, balanced, light and responsive under saddle. Learn the fundamentals and how to develop and execute them with a high degree of accuracy. For the rider with some prior experience with Michael.
March 8 -10, 2019 (Fri/Sat/Sun)
5425 W. Interurban Blvd.
Bothell, WA 98012
*Small group format with individualized attention.
*All disciplines benefit.
*Participant Cost: $475 for all 3 days
(morning or afternoon sessions)
Includes:Arena/haul In, continental breakfast and light lunch daily
*Deposit:50% deposit required to secure spot (paypal.me/olygranger)
*Overnight Paddock: $15 per night, or $40 for 3 nights (Thu/Fri/Sat)
*Auditors:$25 per day or $60 for 3 days. Includes continental breakfast and light lunch daily (RSVP and pre-payment not required, but appreciated for planning purposes)
Clinic Host: Olympia Granger 206.498.6939 olympiagranger@hotmail.com
About Michael: As an instructor, I encourage both people and horses toward mutual understanding.My approach is inspired by the work, methods and ideology of the late horsemen Tom and Bill Dorrance, and Ray Hunt. I ride regularly with Buck Brannamanand consider myself blessed to be able to draw on his knowledge and years of experience. Pursuing this tradition of horsemanship should result in a horse that is easy to ride and light to your aids, being mentally engaged and enthusiastic, as well as a rider that looks like they belong on a horse and enjoy being there. Visit: www.michaelsparlinghorsemanship.com

Print/Email Friendly