When:
July 11, 2018 @ 5:30 pm – 8:30 pm
2018-07-11T17:30:00-07:00
2018-07-11T20:30:00-07:00
Where:
Spokane Polo Club
7714 W Sunset Hwy
Spokane, WA 99224
USA

Cost:
$750. + $500 horse rental
Join us, May 30th – July 11th, for this seven-weekly series to learn polo from start to finish!
Our outstanding instructors will walk you through the basics, so you can be playing chukkers in no time!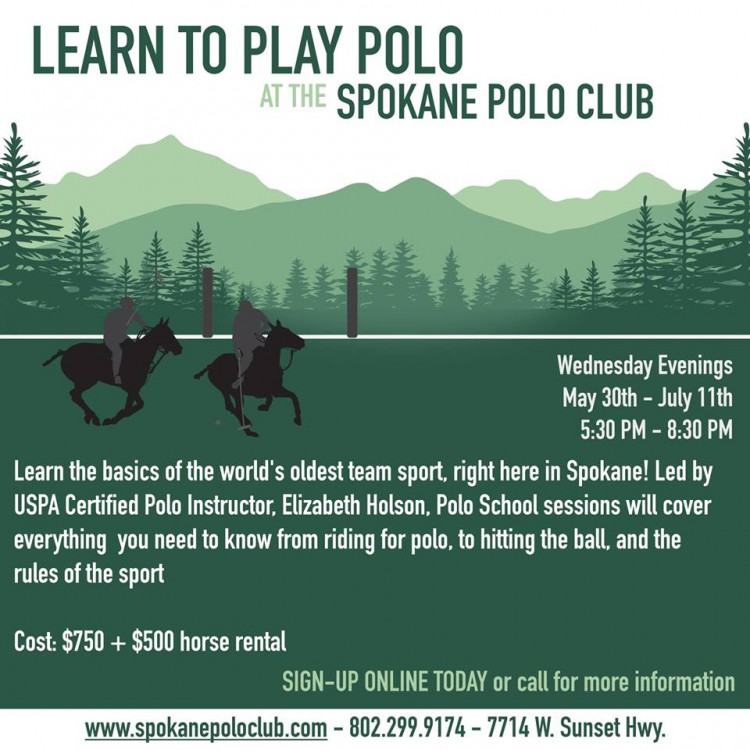 May 30th – July 11th Wednesday evenings 6:30-8:30pm
Cost: $750 for the series. Horse leases available for $500 for the series (leased horses will arrive tacked and ready for polo).
Who can participate: Anyone aged 12 and up!
What do you need: Jeans or riding pants, close-toed heeled boots, and a riding helmet (loaner helmets available).
What will be provided: Mallets, tack for lease horses, other necessary polo equipment, and a FREE USPA membership.
What to expect: Each session will begin with begin with an unmounted session to practice holding the mallet and swinging it on the ground.  Next you will mount up and practice riding, hitting the ball, and even play in coaching chukkers.  Every session will end with an unmounted chalk-talk where you can learn the rules of the sport and ask questions about polo strategy.
Click the Event Website link above for additional details.

Print/Email Friendly