When:
December 1, 2018 @ 9:00 am – December 2, 2018 @ 4:00 pm
2018-12-01T09:00:00-08:00
2018-12-02T16:00:00-08:00
Where:
Evan Bonner Horsemanship
14870 Glenwood Rd SW
Port Orchard, WA 98367
USA

Cost:
$150 per class/$20 Auditor
Evan Bonner Horsemanship Clinic
Saturday 12/01 – Foundation Horsemanship
Sunday 12/02 – Horsemanship 1
Cost – $150 for each class or $250 for both.
Spectator Fee – $20
Lunch provided for all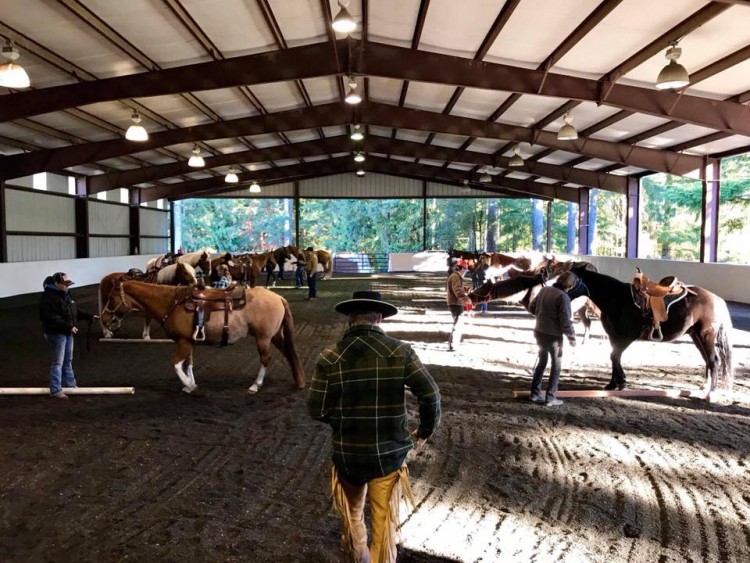 Foundation Horsemanship –
This class is all about learning the essential building blocks of good horsemanship. The morning portion is on the ground and the afternoon on horseback. You learn what needs to take place with the horses feet on the ground first before working on it undersaddle. You'll also learn to use the rope, the flag and other tools that will allow you to be more effective with your horse.
Horsemanship 1 – This class is suitable for the advancing rider comfortable with basics but in search of continued work. Emphasis is placed on the steps that go into making a truly educated horse. We will be working primarily in the snaffle bit but horses are welcome to be ridden in a hackamore as well. A variety of obstacles and challenges may also be presented. All levels of riders – no matter what discipline – will benefit.
Evan Bonner was raised on a small farm in Port Orchard Washington where he grew up around horses most of his life. It was when he was a teenager that he stumbled upon great horseman like Pat Parelli, Dennis Reis and Buck Brannaman, that he knew that he wanted to chase horsemanship. After high school, he began helping people with their horses, starting colts and continued learning the philosophy of true horsemanship. Later in his career, he met and studied with the late Peter Campbell. Meeting Peter greatly impacted the direction of Evan's life. He knew that there was something unique about Peter and his ability with horses, and has been chasing that feeling ever since. Evan continues his study of true horsemanship with master horsemen including Trina Campbell and Buck Brannaman.
Evan teaches the techniques of properly riding and operating a horse…but he also teaches the concept of learning to work through a "feel". Once a person learns to operate a horse through feel, the opportunity for progress and growth is greatly improved. Evan believes that the secret to horsemanship is getting the horse to rather be with you than any other place – whether you're on the ground or on their back.
Click to view our Facebook Event page!

Print/Email Friendly